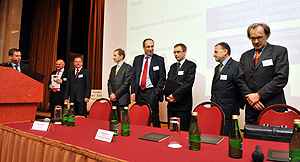 Text of the Declaration:
DECLARATION ON SUSTAINABLE DEVELOPMENT IN THE ENERGY SECTOR IN POLAND

Introduction
Currently, the world is facing the need for transition from high to low-emission economy. Europe will require additional energy to fuel its economic growth and meet the needs of its societies. This will prompt countries to look for new solutions to enhance their energy efficiency and security, for instance through diversification of energy suppliers, as well as sources and directions of energy supplies.
To ensure development of societies and protection of the environment, especially in the face of growing pressures to increase the efficiency of energy consumption, it is crucial to produce and distribute energy in accordance with the principles of sustainable development. Implementing the sustainability principles by Polish enterprises may be a key factor determining their competitive position at home and abroad.
"Sustainable development is development that meets the needs of the present without compromising the ability of future generations to meet their own needs." (WCED Our Common Future Report 1987)

Declaration
We recognise that our joint efforts need to focus on implementing and promoting the idea of sustainable development, notably through initiatives undertaken at our companies, as well as through regional and global partnerships. In view of this:
Þ Our answer to the challenges related to energy security and sustainable development is to ensure effective functioning of the markets, so they become increasingly open, safe and competitive, with transparent rules, good management and no impediments to free trade.
Þ We are prepared to engage in efforts aimed to further improve health and safety at work. Moreover, we invest in our employees' personal development. We promote gender equality in the energy sector, by taking initiatives aimed at giving men and women equal career opportunities.
Þ We acknowledge the need to build our customer base on the open energy and gas market, where the rights of customers are effectively enforced. We also take care of our customers, especially those from socially vulnerable groups, by facilitating their access to energy. On this issue, we are willing to actively cooperate with the government administration, local authorities and non-governmental organisations.
Þ We recognise the importance of involving a wide group of stakeholders in our business activities and consulting local communities. By doing so, we will reinforce our positive impact on both the social and natural environment, while finding answers to the challenges which lie ahead.
Þ We recognise the need to manage our value chain in line with the sustainability principles, especially by establishing relationships of equals with our customers, suppliers and business partners. Moreover, we are keen to support our suppliers and business partners in achieving high standards of sustainable development and corporate responsibility.
Þ We are aware of the need to jointly promote energy-saving solutions, design and implement cleaner and more efficient technologies, overcome barriers to investment in the energy sector and carefully consider the environmental impact of investment projects at every stage of their execution.
Þ We recognise that it is essential to ensure energy security based – to the greatest extent possible – on domestically produced, clean energy sources, including renewables. We want to engage in the development of renewable energy sources, harnessing the potential offered by scientific and technological innovation, and working towards a consistent and stable regulatory framework. At the same time, we appreciate the benefits of industry-wide cooperation in order to promote best practice and share knowledge and experience.
Þ We realise the importance of assessing our goals and objectives in terms of their compliance with sustainable development policies, and informing our stakeholders of the results. In conducting our business, we adhere to the principles of openness, transparency and reliability, by disclosing both qualitative and quantitative data reflecting our progress in terms of sustainable development. We aim at presenting our social, economic and environmental performance in the form of publicly available reports, prepared in accordance with generally accepted standards.